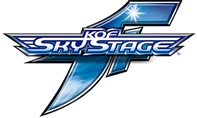 The characters of SNK's flagship versus fighting game series "THE KING OF FIGHTERS" comes back in a shooting game! As well as the Normal Shot, Special Moves, and Provocations (proper to fighting games) can be performed in "KOF SKY STAGE". This "orthodox shooting game" allows two players to join their forces in common in the CO-OP mode or to face each other in the VERSUS mode.

6 very popular protagonists from "KOF" participate in this aerial battle!
Kyo Kusanagi, Athena Asamiya, Iori Yagami, Kula Diamond, Mai Shiranui and Terry Bogard fly through the skies to stop Orochi's resurrection! "KOF SKY STAGE" features an original story for each playable character.
"KOF SKY STAGE", the shooting game that combines to perfection "Shooting" and "Fighting" games!
Each character has their own Special Moves aside from his (or her) normal shot.
3 types of Special Moves can be unleashed depending on how much the Power Gauge is filled. Elaborate your own game strategy by using the characteristics of each Special Move wisely!
Furthermore, "KOF SKY STAGE" includes a "PROVOCATION SYSTEM" which gives tons of points to players who have high-risks!
Numerous features for intense and exciting "shooting battles"!
A tremendous and terrifying boss awaits the player at the end of each stage. Bosses vary depending on your progression in the game and an "EXTRA LAST BOSS" will appear if you meet the required conditions!
"KOF SKY STAGE" features an innovative "scoring system": you will get a high-score item called "RANGE BONUS" when you destroy enemies at a close distance, a "COMBO BONUS" will be given when an enemy is defeated by a constant fire, or a "BOSS CRASH BONUS" for a boss wiped out very quickly!
CO-OP and VERSUS play are possible on Xbox LIVE!
Two players can use the same character in the CO-OP mode and in the VERSUS mode of this Xbox LIVE ARCADE version!
In the case of cooperative gameplay, and depending on the characters combination, some story dialogue will differ from dialogues found in SINGLE PLAY.
Experience quintessential versus gameplay by facing against another player with a guard system and Special Moves, just as in the "KOF" fighting game series!
"KOF SKY STAGE" also features a "RANKING" system!