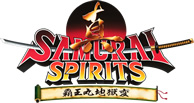 From its arcade debut in 1993, "SAMURAI SHODOWN" established the genre of sword-battle fighters and it is one of SNK's representative titles with its game balance that dazzles owing to its single-blow destructiveness and its worldwide popularity deriving from its milieu overflowing with samurai, ninja, and original characters. In this sequel to "SAMURAI SHODOWN," the character rivaling Haohmaru's popularity makes his debut in the person of Genjuro Kibagami, wielder of the "Syphilitic Stinger" sword. In addition, new elements such as Weapon-Shattering Moves have been packed into this title that guarantees its perpetual popularity.

"SamSho" IS "SAMURAI SHODOWN II," The Series' Quintessential Title!
This preeminent game masterpiece from SNK appeared as the second installment of the SAMURAI SHODOWN series and still remains a favorite among SAMURAI connoisseurs!
This title takes its concept, characters and systems to a new level of evolution while preserving the appeal of the previous title, said to be the originator of weapon-fighting games!
The Sparks Fly as 15 Sword Masters Led by a Greater Destiny Clash!
In addition to the original 11 characters including the main character Haohmaru, along with Nakoruru, Ukyo Tachibana, Hanzo Hattori, Jubei Yagyu and all the other familiar faces come the four newly added characters of Genjuro Kibagami, Cham Cham, Sieger, and Nicotine Caffeine!
To stop the ambitions of Mizuki the Marauding Demon, cut down all who obstruct you and slash your way to glory!
Varied Actions and Weapon-Shattering Special Moves Intensify Battles!
New actions added to character repertoires allow characters to roll forward or backward, crouch, and perform various other feats, along with "Weapon-Shattering Special Moves" (when your rage reaches MAX) at your disposal.
Tricky and thrilling matches will singe your senses! And "Plushification" (becoming animal characters) adds an element of fun to battles!
Go Mano a Mano with Challengers throughout the World in Online Battles!
Use Xbox LIVE to showdown with sword masters from all reaches of the world that may even include your own backyard.
Engage in tense battles with rivals awaiting you online and carve out your reputation on the world stage!